Op-ed: Jeremy Rinker, Daniel Rhodes and Mary Anne Busch: One year after Summit-Cone tragedy healing and change remains elusive.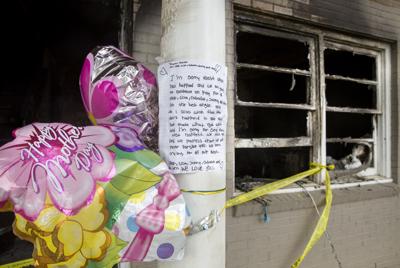 A year ago to this date, a family seeking refuge from conflict, war and poverty was torn apart by tragedy right here in Greensboro.
As longtime Greensboro residents and ourselves one-time newly arrived professional migrants to the Triad, we always thought of our adopted home as welcoming.
When tragedy strikes a community, a welcoming community responds.
But a year after a fatal fire at the Summit-Cone Apartments complex, Greensboro has not responded in any discernible way. Much work remains to be done both to heal the community and ensure that the tragedy that occurred last year does not repeat itself.
The history is simple and tragic. On May 12, 2018, a fire in Unit G of the apartment complex at 3100 Summit Ave. led to the deaths of five children ranging in age from 18 months to almost 9 years old. These children — Roy Hope, 8; Lisa Josiane, 7; Christopher Danny, 5; Joshua John, 3; and Trump Emmanuel Kamali, 18 months — cannot be forgotten. Speaking their names and ages reminds us of the lost potential of these young lives — potential our city, state and nation will never actualize.
With all the negative press about refugees at our border, "illegal" immigrants and building walls, these newcomers could have been the next local business owners or city leaders, or even president (the youngest victim was even named after the current U.S. president in honor of the family's newly adopted country). The aftermath of the fire saw 30 families displaced and relocated after housing inspectors found nearly 1,000 code violations. Despite the loss and upheaval of these families, little else has changed.
Refugees are among the most vulnerable populations in any country, and with anti-immigrant sentiment on the rise around the world, refugees remain in perilous situations even in our own city. In Greensboro, we can and should do better. The fact is, refugees are vital assets to a vibrant and healthy community. So why do we treat them as a problem?
Refugees' experiences develop in many of them a resilience and creative tenacity that will drive innovation and build strong communities into the next century. This is what was lost when the tragedy of the Summit-Cone fire took the lives of these five children. While they are irreplaceable, we can and must ensure that we never face such loss again. Ultimately, the Summit-Cone fire is one tragic scene in a larger human rights issue playing out across the nation, as well as, right in our backyard.
It is with this lost potential in mind that two of the authors of this piece have facilitated peace circles aimed at healing the community, restoring trust in public institutions and developing recommendations that would ensure that a tragedy like the Summit-Cone fire never happens again. This work of developing consensus around a set of recommendations for concrete change remains unfinished. As a year has passed since the fire, it is clear too little has been done thus far. Greensboro lacks the safe, affordable housing necessary to be considered a welcoming city. Current housing inspection policy allows slum landlords to unduly influence the availability of safe and affordable housing in Greensboro. Refugee services are woefully underfunded and the necessary follow-up with newly arriving refugee families is a critical causality of this underfunding.
From an even broader perspective, our city also has little space or structure to discuss and discern its important differences. We hope that modeling a process for dialogue and collaborative change can be a first step to realizing some ways forward. Peace circles are our organic response to lack of concrete action and ownership for change.
While much work remains, we believe that Greensboro has the expertise and resources to better the lives of our newest neighbors. With so many institutions of higher learning, Greensboro has been, and can again be, a Gate City. We aspire for Greensboro to be a welcoming community, but realize that dialogue and talk must turn to policy and action.
Talk is not cheap — talk is important to develop the type of community we all aspire to call welcoming, open and inclusive. We are not there yet. We need leadership unencumbered by the interests of wealthy property owners. We call for leadership that is keen on fostering dialogue and restoration, while welcoming perspectives from our newest neighbors. We can all do better and we must have leadership that holds us all responsible.
Unsafe, unhealthy, dangerous housing should never be tolerated — even if it is the only affordable option. We know we can do better and we hope you will join us in response.